MGET is a set of tools that provides us the capability to download chlorophyll data. This kind of data is really important for modeling and visualizing raster layers according to the presence of chlorophyll on the map.
To start with, we are going to search for NASA GSFC Ocean Color. This website hosts a great deal of satellite data, processed from several observations of the oceans in different color detection, made by satellite sensors orbiting polar zones, such as MODIS, SeaWiFS, PTU and CZCS. Their product o is an estimation of type "a" chlorophyll.

This tool is capable of accessing level 3 (L3) of "Standard Mapped Image" (SMI), which has a worlwide extension. It uses the WGS 1984 datum with its geographic coordinate system.
Then, we are going to choose the NASA Ocean Color L3 SMI Product tool. It is located in the ArcToolBox previously installed in ArcMap.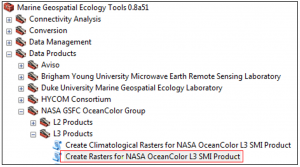 Once the tool is open , it is necessary to fill the following fields: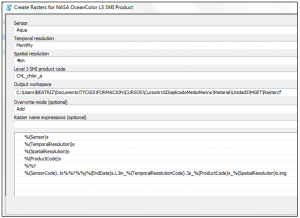 Once we open the tool , it is necessary to fill the following fields:
Sensor: This is the type of sensor to choose among: Aqua, CZCS, MERIS, OCTS, SeaWiFS, Terra. We select the Aqua[1] satellite, which has the MODIS sensor incorporated. This satellite began to colect data from 2002 and it is still collecting nowadays.
Temporary Resolution: if data is collected daily, at 8 days, monthly or yearly.
Spatial resolution: you can choose between these two values: 4 or 9 km.
Product code: The products which are available depend on the sensor. The newer are the sensors – like SeaWiFS and MODIS – the more data they provide. Product code is all characters the name of the product has in NASA files. These characters appear between the temporary resolution and the spatial resolution code. For instance, within the following code: O1997164.L3m_DAY_CHL_chlor_a_9km.bz2.
Here, the product code is "CHL_chlor_a".
Output workspace: where the data will be downloaded.
Once you have all these fields complete, we execute the tool and wait for the datasets to be stored in the catalog. In this example, we see all of these: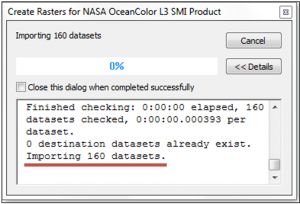 Finally, load the data to the Table of Contents and start to work with this data.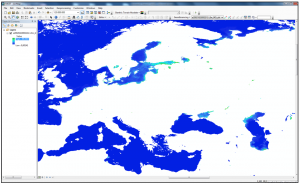 This is an example of Marine Geospatial Ecology Tools (MGET),  a set of tools completely free and ready to use in the ArcMap environment.
Quality training teached by professionals
 RECOMMENDED COURSE