ModelBuilder is a simple visual model used to generate the sequencing of different tools. If you follow a series of equal steps with different layers, with this model you can create one tool for doing so in one step.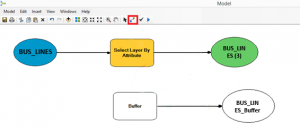 With ModelBuilder you will sequence the different tools so that you only need to change the option of the layer to be used and therefore you do not repeat the whole process all the time.
You can access to it by ArcCatalog or Arcmap. The fastest way to open it is from the taskbar clicking Geoprocessing > ModelBuilder.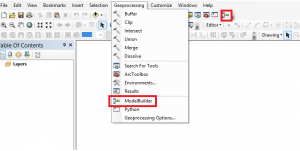 To generate the activity flow, you must select a tool from ArcTool and drag it to the ModelBuilder window. A square indicating the tool connected by an arrow to a circle, that indicates the result variable that will appear after its use, will be added.
Initially, the tool and the result variable boxes will be empty (in blank).
There are two ways to add the variables:
Right click inside the tool square and choose `Open´ (it appears as a similar screen as when the tool is used usually).
Right click inside the tool square and choose `Make variable > from parameter´ and the list of variables will appear. With this method, you will take out those variables outside the square to a circle

.
Once configured, the images will be colored automatically, being the variables blue circles, the tools squares yellow orange, and the results, green circles.
The importance of this activity is that it allows to chain different tools. Therefore, once the previous step is done, the next tool is added and it can be connected after its configuration.
Choose the Connect tool that appears on the toolbar to select the result of the previous step with the following tool.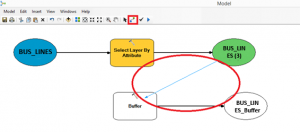 Finally, to execute the sequence of activities you must select the option `Run´ on Toolbar > Model > Run or directly on the toolbar.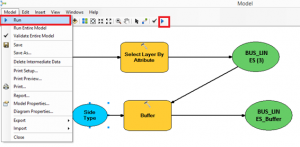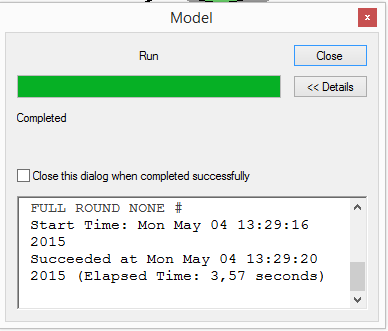 In this way, the new layer will be generated where you specified in the options.
Quality training taught by professionals
RECOMMENDED COURSE