USING PYTHON WITH QGIS
ONLINE TRAINING
START DATE: AVAILABLE SOON (80 hours)
PRICE: 250 € (Standard fee) | 225 € (Student / Unemployed fee)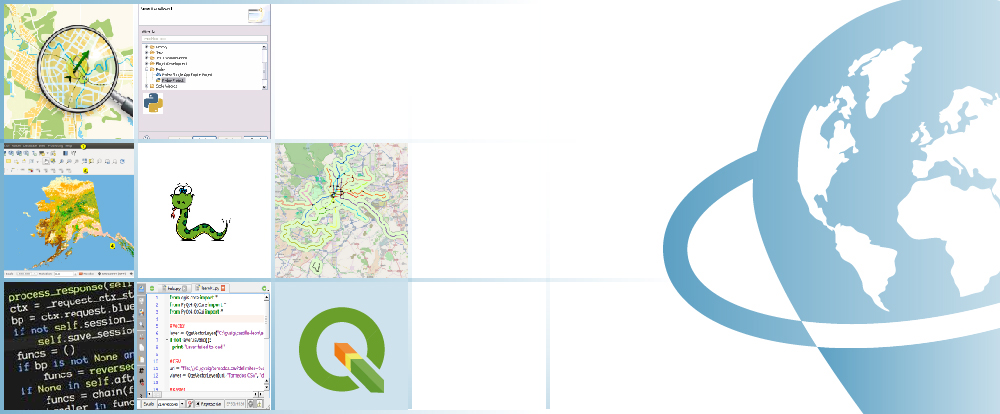 During this course, the students will be able to expand their capabilities in QGIS, using Python programming language. They will learn to develop Python scripts using pyQGIS in order to automate workflows and geoprocesses (such as loading data, different spatial analysis, development of cartographic products, publishing maps online).
The course aims to train the students in the usage of QGIS along with Python programming language and in the development of scripts with pyQGIS, aiming to improve and rush existent user interface workflows, for better results and performance.
Enrolled students in this online course will have access to our virtual e-learning platform (which is available 24 hours), where they will find the content of the course, practical exercises, forum discussion and additional content. One of the advantages of this online platform, is that students can benefit of real time support and assistance offered by the instructor (2 hours per week), whom they can contact via direct messages, regarding course related issues, at any moment. They can also contact the instructor via email.
STUDENTS OPINIONS
The course is very well organized (designed by chapters where the content is explained in detail and includes exercises that help consolidate the related content). You have to work hard and commit, but you learn a lot. You have to work in a big variety of exercise which is the best way to learn how to manage this software. From my point of view, exercises are well focused as in a big majority, they are real life cases.