As you know, many QGIS plugins are going through a redevelopment process in order to be compatible with the new QGIS 3.x versions.
Many features available in QGIS 2.x version are not available in the new version and vice-versa. One of this features is the way OpenStreetMap data can be downloaded (roads, buildings, waterways, places, etc.). OpenStreeMap (OSM) is a collaborative project to create a world spatial database. Has a lot of contributors and due to its size, it is very important to know how to be able to download the data contained in it.
Using QGIS 3.4 Madeira and QuickOSM plugin you can now download OSM data directly in your computer.
 Start with QuickOSM plugin instalation. You can find it by going to Plugins > Manage and Install plugins then type QuickOSM in the search box option available. Click on Install Plugin.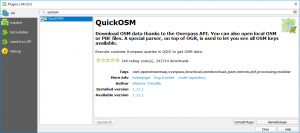 Next navigate in the Browser panel and expand the XYZ Tiles. Drag and drop into the map canvas the OpenStreetMap.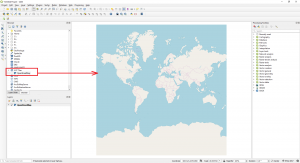 Zoom in to the place you want to acquire spatial data. In this tutorial we will download spatial data found in the city of Madrid Spain. Zoom in to the south of Madrid city.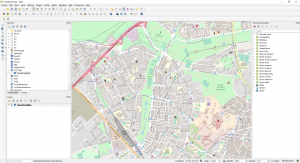 Go to Vector > QuickOSM.

A new window will appear.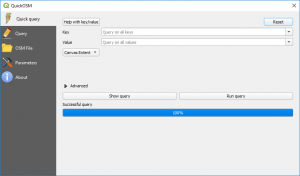 Here you can select the Key – the category (the type of data you want to download – for example the highways or buildings, etc.) and the Value of the key – the subcategory (for example the motorways or primary roads if you selected highways in the key – category option).
In order to download the roads of the Madrid area we will select in the Key option the highways. As we want to download all types of roads/highways we will live the Value option empty.
As for setting the area from where we want to download the data we will select the Canvas Extend. This option will limit the download area to the current map canvas extend.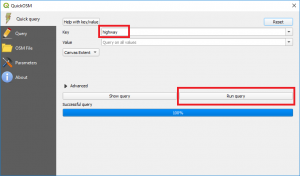 Click on Run query. The data will be downloaded into your computer via Overpass API.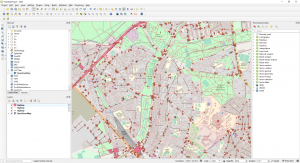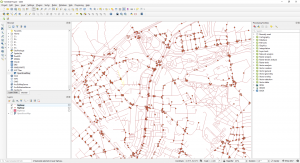 The data downloaded will consist in all line, point and polygon objectives related to the highway network.
Keep in mind that these are temporary files and need to be saved on your computer by going and right click on them and click Save.
If you want to directly save OSM data in your computer go to OSM Files > Directory and select a location on your computer.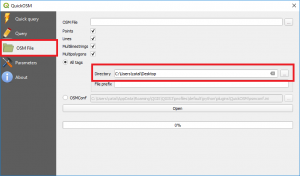 Quality training taught by professionals
RECOMMENDED COURSE